Projects and collaborations
Original and personalized watercolors with the corporate colors of the company Im-vitro.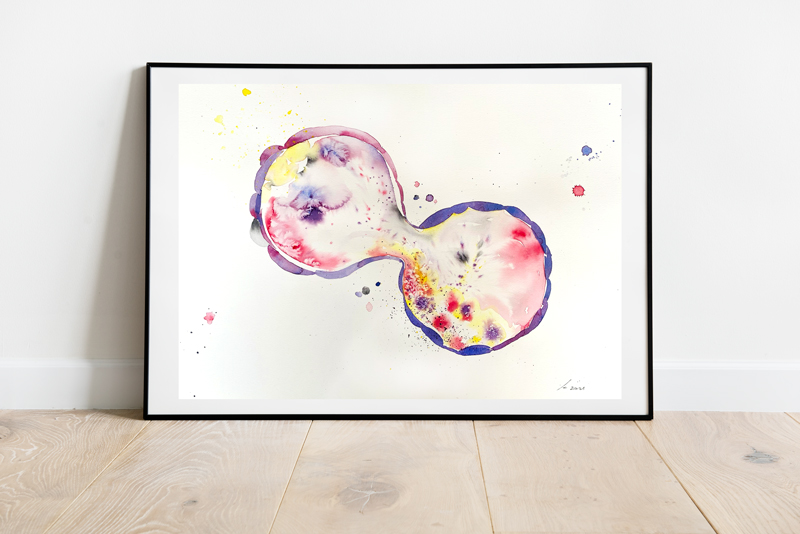 Original watercolors for the covers of the January and September 2021 newsletters. Large format watercolors for the new laboratory. May 2022
For this Andalusian fertility clinic I made 3 prints that they have used for their lab hats, folders and phone covers. I also made 3 large format watercolors for his installations.
CIRH is an assisted reproduction clinic that is part of the Eugin Group. Together we created the "Painted Dreams" campaign. I created an original watercolor of a blastocyst hatching in aquamarine, turquoise and emerald tones and also designed a greeting card by way of packaging.
During the «Painted Dreams» campaign we carried out a variety of actions on social networks and streamed a video together on Instagram with the Director of the laboratory in the Aïda Pujol clinic.
Embryotools is an innovative company that is passionate about the improvement of assisted reproductive techniques.
During the spring of 2020, I made an exclusive print for them to be used as a design on their surgical caps.
INSER (Cartagena, Colombia)
INSER Cartagena is a fertility clinic in Colombia. In January 2020 I made an original watercolor in A3 for them; it was of the first five embryos that they transferred.
Anhel Vallés is an association whose aim is to accompany infertility as well as gestational, perinatal and neonatal grief, and to make them visible.
In November 2019 I designed a solidarity Christmas postcard for them.
I made it from the watercolor of a blastocyst that was beginning to expand again after freezing.